Australia's #1 Mortgage Broker
A fresh approach to finance
We don't just find you any old loan. Nor do we just look at the lowest rate you can get. Rather, we take the time to listen to your financial goals and situation to match you with the right loan product and devise the right structure so you can pay it down and be loan free sooner. It's not just finance. It's Intelligent Finance.
To get the best outcomes for you long term, we look well beyond the lowest rates.  It's what we do with loan structuring that makes the difference.
It's also the service we provide post-settlement that really sets us apart. Our clients are with us for life. 
We tell you what you need to hear to help you achieve your short and long-term goals. We're not into sugarcoating.
Our 20-strong team of loan specialists are on top of the fine print – our job is to ensure you are best placed to get your loan applications approved and then paid off sooner.
We are the best at what we do – the industry has recognised this countless times, and our clients think this too . We're recommended by property and finance experts and we've turned countless clients into millionaires.
We're all about getting that 'yes' from lenders and locking in the loan structure best suited to your unique situation. What does it look like to get there?
Call or email our office and one of our team will get the ball rolling.
We'll advise you on key information we need before shortlisting lenders for you.
You choose a lender and we negotiate the right structure at a low rate.
Our team project manages your application through to settlement.
It doesn't end there – we are with you after settlement for your future needs.
Our unparalleled customer experience
design the most appropriate loan structure to benefit your unique position and provide advise on which lenders are most likely to approve the loan you need.
project manage your loan approval and the property purchase process – we'll even assist with bidding at auction and negotiating the purchase price.
manage your loan and property portfolio after your loan settles – for the life of the loan and well beyond.

Thankyou for the outstanding effort you've put in with refinancing my mortgage. You truly do have amazing people working for you!

I've dealt with Intelligent Finance for over 5 years and all that from interstate. They are fast, efficient, responsive and honest with their promises.

I was very happy with the service, support and communication throughout the re-financing process. All of my needs were taken into consideration - I ended up with exactly what I wanted.

Intelligent Finance are responsive and always able to get us the best deals. They go above and beyond in explaining everything to us, no matter how trivial our questions.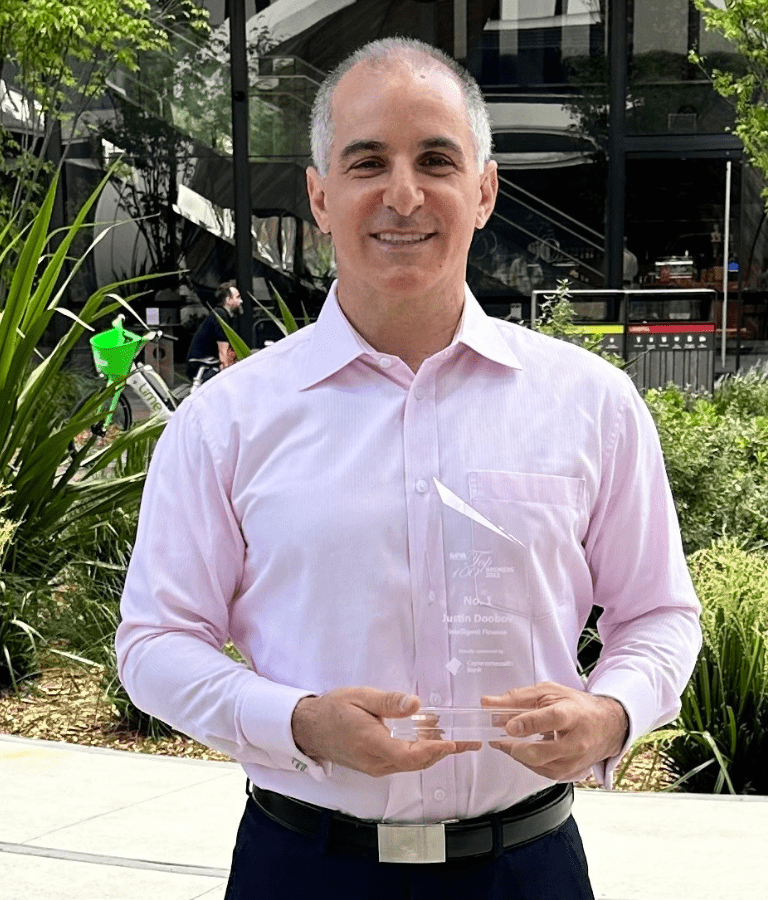 Justin Doobov
Chief Executive Officer, Intelligent Finance
With a degree in finance and accounting, a diploma in Small Business Management as well as qualifications in manufacturing engineering qualifications, Justin is not your every day mortgage broker.
Always wanting to turn a no into a yes, he is known for thinking outside of the box to find alternate solutions that work in his client's best interest.
I can't count the number of times I've heard 'NO' and turned it into a 'YES'…
Justin dissects his client's position to design a loan structure that is favourable to them. His finance experience means he understands complex tax structures that others don't.
Justin is  not afraid of hard work. As a child he went out to wash cars, and as he grew up he took on various jobs in hospitality and retail. Some of the neighbours he washed cars for are his clients today!
Delia Rickard, the Australian Competition & Consumer Commission (ACCC) deputy chair has reported an increase in complaints about businesses falsely promoting green credentials to capitalise on changing consumer preferences. Businesses have been warned they need to...