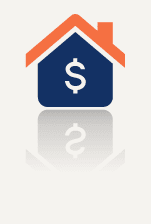 Property finance is one of our core offerings and an area where we are regarded as a leader within the industry. We have a panel of over 40 lenders, giving you access to over 400 loan products under one roof, so you can be sure that we will find a solution that suits your needs. Our team is in your corner to guide you in your choice and facilitate the entire loan and property buying process, saving you time, money and stress.
Home Loans
Buying your home is possibly the biggest expense you will incur in your life. This is why it is a good idea to get help from a market-leading professional.
Choosing a loan isn't just about finding the lowest interest rate. The structure can also make a major difference in how quickly you can pay off the loan and cater to future possibilities, including the possibility you may turn the property into an investment.
Your home loan also needs to be futureproofed. For example, perhaps you may want to make a career change, become self-employed, take time off to have a baby or protect yourself against future interest rate rises, just to name a few.
We have extensive knowledge of the variety of home loan products available, including fineprint and conditions. We're also skilled at determining the factors that can impact the structure of your loan to identify which will best match your unique circumstances.
Investment Loan
Property has long been a key component in many Australian investors' portfolios. When it comes to financing an investment property, the structure is one of the most important considerations.
The wrong investment loan or ownership structure could result in losing a lot of money in interest and not getting all the tax deductions that may be available to you.
We can guide you personally through the entire process, making sure your loan is tailored to your individual requirements. Intelligent Finance brokers own investment properties ourselves and we practice what we preach.
Refinancing Loans
The finance market can change dramatically in a short period of time. Your current loan may have been the optimum solution or lowest interest rate for you when it was set up, but it may no longer be.
Competition between lenders is high and many offer exclusive interest rate discounts and approvals for Intelligent Finance clients.
Chances are your needs have changed slightly since you first set up your loans. We can review your position and if required, reorganise or restructure your loans with your current lender or take advantage of new offerings that may be more advantageous.
This alone could save you thousands of dollars.
Low Document Loan
Low document loans are popular with many self employed people who either do not have tax returns completed at the time they need finance, or their historical income does not give a true reflection of their current income.
Most lenders offer some form of a low document loan and there is a huge difference between the information that each lender requires. For example, some just need your current year's BAS statements, some need letters from your accountant, some only need to see your past month's trading bank statement, and some only require you to sign a declaration of income.
It is extremely important that a low document loan application is structured correctly to ensure it has the highest chance of being approved. An Intelligent Finance broker will always take the time to fully understand your financial position to ensure that when we prepare your loan submission, any potential questions the lender's credit team may have are already addressed in the original application.
To maximise the likelihood of success with your low document loan application, talk to one of the experienced brokers at Intelligent Finance today.
Off the Plan Purchase
Before lending money to a developer for the construction of an apartment block (for example), the lenders normally require the developer to have sold a certain percentage of the properties to future buyers.
When you buy one of these properties, you are "buying off the plan". There are several benefits of buying off the plan.
A key advantage is that you can buy a property at today's prices, and pay the balance of the purchase price at a later date (sometimes up to 4 years in the future).
There are however, many pitfalls when buying off the plan. Some of these relate to the finance, and others to issues that could arise with the developers. Intelligent Finance has arranged finance for many off the plan properties, so by using an Intelligent Finance broker to arrange your purchase you benefit from our experience in knowing what to look out for – helping to ensure that these problems do not arise.
Contact Intelligent Finance today and benefit from our expertise in finance for off the plan purchases.
Deposit Bonds
If you are "buying off the plan" or if you do not have 5% or 10% of the new purchase price in cash available to pay a deposit on a property, we can arrange a deposit bond for you.
Being able to move quickly to secure a property can save you thousands of dollars on the purchase price. 
A deposit bond is effectively a guarantee that a large institution gives to the sellers of the property you are buying. You only pay a small fee for a deposit bond, and this then avoids the need to put down a large holding deposit.
We can arrange a deposit bond in as little as 1 hour.
Contact Intelligent Finance today for fast and professional advice in securing a deposit bond for your next property purchase.
Construction Loans
If you are planning to build or renovate a property, a construction loan enables you to pay your builder in installments as the building progresses.
The lender could even lend up to 100% of the building costs if they are satisfied with the projected future value of the property and your ability to service the new loan.
While most lenders offer construction loans, not all are equal. It isn't just about finding the lowest rate – the lender is effectively your building partner and it is important to match with the right one for your circumstances and goals.
Every construction loan we have set up for clients has differed in structure based on their financial position and type of property. We deal with over 40 lenders to make sure you find the right deal for your needs. But it doesn't end there. We can advise, arrange and project manage construction finance for every step of your new construction or renovation.
Contact Intelligent Finance today for assistance with arranging a construction loan that's suited to your finance requirements.
First Home Buyers
Buying your first home is an exciting time. Since it is a new process for you, you will have a lot of questions and our team is here to help you every step of the way.
We take the time to check what grants you could be eligible for, help you get your finances in order and work with you to help you achieve your goals sooner. We can guide you through the whole finance and property purchase process.
Our aim is to help you understand your loan and why we have recommended your particular loan structure. It is important to us that you feel confident and have a sense of control over your financial future. We don't just want you to buy your property – we want you to own it, and sooner than you thought.
The importance of setting up a home loan correctly in the first place
Many of our clients who have purchased their first home with Intelligent Finance have returned to us to purchase their next property and turned their original property into an investment property. In doing so, they have been able to take advantage of the fact that their original loans were set up properly the first time by Intelligent Finance. In this way, their investment property is structured in a highly tax-effective manner, which will continue to save them money each and every year until they sell it.
Many first-home buyers make fundamental mistakes when buying their first property by focusing on the wrong factors. This is why Intelligent Finance brokers take the time to discuss with you, what to consider to ensure the best prospects for high capital growth. Intelligent Finance brokers will then make sure that your loans are structured correctly with the most appropriate lender right from the start.
Discover why so many first-home buyer clients of Intelligent Finance become clients for life. We'll help you with friendly and professional guidance every step of the way, to set you up well financially, now and in the future. 
Contact Intelligent Finance today for expert advice on loans for first home buyers.
Pre-approvals
Getting finance pre-approval can give you confidence when shopping for your new property. Just like you wouldn't go to the supermarket without checking what you have in your wallet, it is a good idea to understand your price range before you start looking at properties.
Undergoing pre-approval also helps get your finances in order. Lenders will evaluate your financials and circumstances, which gives us time to work with you on anything that can be strengthened before you buy your property.
At Intelligent Finance, we offer two types of pre-approvals.
30-minute pre-approval: This gives you a guide to how much different lenders will lend you. It outlines the statistical chances that different lenders will lend you money for the type of property you are wanting to buy.
Full pre-approval: In this case, a full and detailed application is prepared and submitted to the lender. The lender carries out all necessary enquiries regarding employment, credit and income checks, etc. This gives you an even more accurate indication whether your loan is likely to be approved once you locate your desired property, however it is still conditional, which we can talk you through.
We deal with over 40 lenders and will arrange your pre-approval through the lender we believe most suits your needs and circumstances in order to ensure the highest chance of your approval being honoured once you locate your property. 
Many of our pre-approved clients have saved potentially tens of thousands off the purchase price of their property because they were able to move quickly before other buyers had a chance.
Contact Intelligent Finance today to make the pre-approval process as streamlined, simple and effective as possible.
Our Approach
We are the masters of structure. We don't only look for the lowest rate for our clients, but also how we can structure their loans to better suit their needs.
We set up structures and strategies for funding commercial growth strategies and assets in a way that helps our clients save money and achieve their goals sooner.